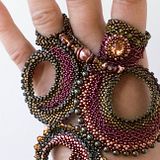 I've entered the
Use the Muse
contest again; this time I wanted to make something very different. Not that I don't enjoy making necklaces, but almost all the entries in previous
Use the Muse
contests have been necklaces, and I wanted mine to stand out from the crowd.
The handflower style bracelet has been teasing me for awhile now, and I thought that this contest might be the perfect time to make one. I can't show you all of the piece, because the Muse must remain a secret until after the judging is finished; but I couldn't keep it hidden that long, I just had to show off at least a little bit of it.
It is designed to be worn on the left hand; it is anchored on two fingers, covers the back of my hand, and goes up my wrist quite a ways. It's a very dramatic and fun piece. I love the color scheme; I can't take credit for it, of course, but I did expand it a bit. It reminds me of fall in the wine country.
Come to think of it, we'll be going to some winery harvest events in our town this weekend, I think I'll wear it. If you see me, be sure to say hello, but don't tell anyone what the muse is, okay?